Summer is upon us at our cellars and drying sheds for Ibérico Acorn Fed Ham. And with its arrival an essential stage of its curing is set to start: sweating .
The high temperatures that are brought to us by the Sierra winds, mainly during the months of June and July, are taken advantage of at our Guijuelo facilities in order to ensure that the Ibérico acorn fed hams and the Ibérico acorn fed shoulder ham will duly comply with one of the most important stages in its curing. As explained in a  previous post, the fat of the Ibérico acorn fed ham contains 56% of oleic acid, which apart from being healthy also has that notably lower blending point (at around 17º C) which combined with other unsaturated fatty acids that make up the same take the temperature for compounding of the ham fats to around 20-23º.
At Sierra de Codex we proceed with the opening and closing of the drying shed windows throughout the summertime in order to ensure that the Ibérico hams and shoulder hams will be gently subjected to temperatures that are higher than normal. This is how we manage to ensure that part of the ham's infiltrated fats will blend and move through the different muscle tissue, in general in a downward motion. It is precisely thanks to this process that the flavors and aromas that are generated during its slow maturing are distributed and transported by the fats in movement in a smooth and homogenous manner throughout the Ibérico ham.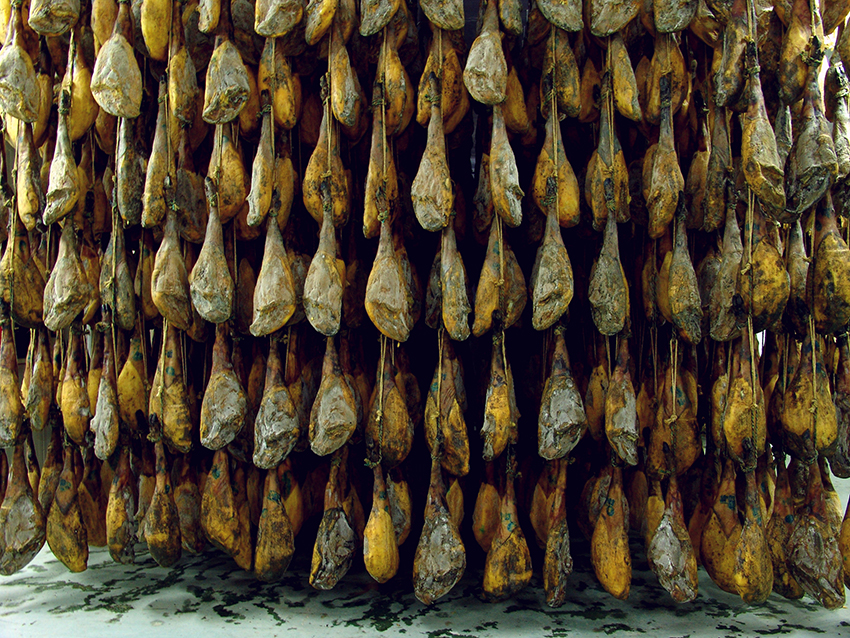 What is observed is that the hams and shoulder hams «sweat» and drops of oleic acid accumulate within the lower part of the ham (known as the flank or end point), which at the cellars and drying sheds are allowed to freely drop to the floor. This is why we can see that in many stores and establishments where Ibérico products are on sale, small cones are placed under the hanging hams to collect the drops of fat and avoid these reaching the floor and this is also the reason why many experts consider that the flank is the part of the Ibérico Acorn Fed Ham that concentrates the greatest variety of hues in its flavor and aroma.